The Three-In-One Cable: CAN-Bus, Ethernet Cat. 7 and 300V Power Supply. 
The new CAN-Bus High-Endurance cable presented by HRADIL Spezialkabel GMBH in Bietigheim is a hybrid cable and has been specially designed for moving applications in extreme environments. Typically it will be used aboard heavy-duty machinery in open-cast mining and road construction work. Here, extreme mechanical conditions such as vibrations and high tensile loads conspire to make life hell for the cables.
The best is yet to come, however: even though HRADIL's cable consists of three separate cables "rolled" into one it has a cross-section of just 23.6 mm. Compared with other conventional single cables it is also far more resilient and durable. The HRADIL CAN-bus High-Endurance Cable fulfils three different functions: in addition to real-time control via CAN bus and monitoring and safety tasks via Gigabit Ethernet, it can also supply motors and different applications with voltages of up to 300V through 6 cores of 3x1.5mm² each. HRADIL's CAN-Bus High-Endurance Cable can be shipped at short notice.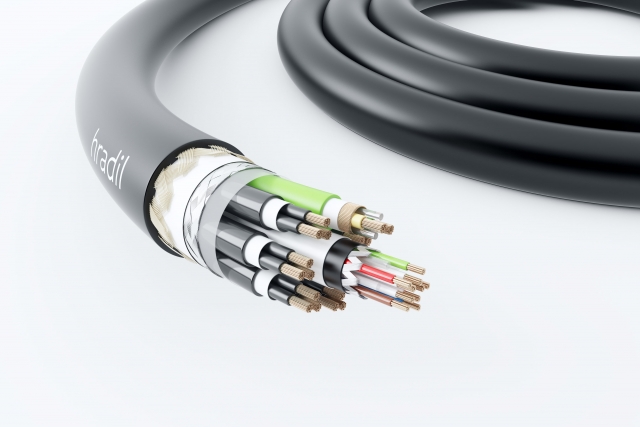 Sophisticated engineering – designed for robust tasks at the limit.
Engineers at Hradil have demonstrated great resourcefulness and care, selecting materials and designing solutions which guarantee that the HRADIL CAN-Bus High-Endurance Hybrid Cable withstands the most extreme mechanical stresses e.g. vibrations, shocks and tensile loads. All three cable assemblies, the CAN bus, power supply and the Cat7 Ethernet cable are protected by their own jackets made from a special easy-glide material.
The Cat7 Ethernet module at the centre of the cable comprises four cores of 2x0, 14mm² and 2x0.25mm² each. The CAN bus and the Ethernet cables are wound around this in the next layer achieving stress-free stranding. It is also worth mentioning that the CAN bus scores points with its nominal impedance of 120 Ohm. Power is supplied through six stress-free stranded bunches. For each core HRADIL uses highly flexible copper wires in accordance with IEC 60228 class 6.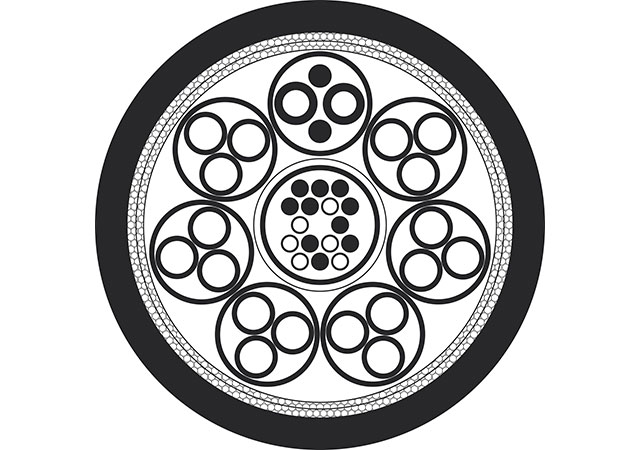 The complete HRADIL CAN-bus High-Endurance Hybrid Cable assembly is protected by a jacket made from TPE-U. This black and halogen-free jacket is then amalgamated with the assemblies inside by pressure extrusion. This helps avoid potentially hazardous interstices. To shield the cable HRADIL has chosen an open braided sheath consisting of a high-strength textile fabric. Thanks to this the HRADIL cable can withstand extremely high tensile stresses of up to 4,000 Newton. And, also in terms of maximum bending radii, the HRADIL CAN-Bus High-Endurance Hybrid Cable needs to shy no comparison. The HRADIL CAN-Bus High-Endurance Hybrid Cable has been specially designed for outdoor applications and temperatures ranging from -60°C up to 85°C. It is resistant to ozone in accordance with DIN EN 60811-403 (test method A) and UV. pursuant to DIN EN 50289-4-17 (test method A), oil and petrol and also to coolants and lubricants.
Some interesting facts: CAN Bus (Controller area network)
The CAN bus (Controller Area Network) is a standardised real-time vehicle bus for serial communication. Originally it had been developed by Robert Bosch company in 1983 for automotive applications and with the objective to minimise wiring harnesses in motor vehicles. In recent years the CAN bus has also become firmly established as a field bus in automation and manufacturing settings. The International Standardisation Organisation (ISO 11898-2 High-Speed Medium Access Unit, 2003) recommends the use of a twisted-pair cable with an impedance of 95 to 140 Ohms.
More interesting facts: Ethernet CAT7
CAT7 cables comply with IEEE 803.2 standard (Institute of Electrical and Electronics Engineers) and have been designed for the 10 Gigabit Ethernet. CAT7 cables comprise four individually shielded pairs of wires (Twisted Pair) housed inside a common shield.
Downloads