New Generation Coaxial Cable 4.0 for UV-Cured Lining Systems. 
HRADIL's new 300 V New Generation Coaxial Cable 4.0 for sewer relining robots with UV-curing unit permits the use of two independently operated camera systems. The technical solution behind this employs two internal 75 ohm coaxial conductors.
Able to withstand extremely harsh environments and high mechanical loads the cable was designed for an above-average service life, while its small outer diameter of only 22 mm belies the sophisticated engineering of the cable.
With its drum reeling "New Generation Coaxial Cable 4" HRADIL Spezialkabel GmbH in Bietigheim presents the first robot cable for UV-cured lining systems with two coaxial cables. This has the advantage that two camera systems can now be installed on UV-curing trains, each of which can perform different tasks as front or reverse cameras, for example. While one camera monitors the curing process the other one inspects the results and logs them. Overall, contractors specialising in sewer rehabilitation and civil engineering companies benefit from a significantly faster execution of work. HRADIL's "New Generation Coaxial Cable" permits the use of two separate power supplies with 300 and 24 volts. The highly abrasion-resistant 44-wire cable was designed to withstand the extreme mechanical and chemical stress of sewer work. The HRADIL cable can take tensile stresses exceeding 5,000 N in a temperature range from -50°C to +90°C without batting an eyelid. The "New Generation Coaxial Cable 4.0" can be delivered at short notice.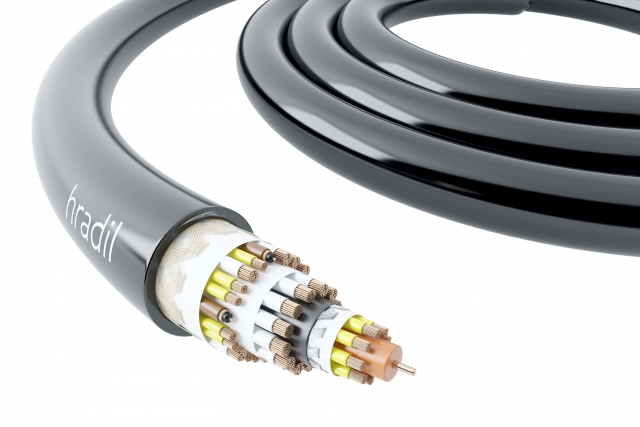 The days of duplicate work when it comes to trenchless sewer pipe lining are over
A typical working day of a contractor carrying out remedial work on an underground sewer looks like this: First a resin-soaked short liner (*for explanations and background read below) is introduced into the sewer and brought to the point of damage. Next, a train fitted with a UV-curing unit travels to the glass-fibre mat liner to cure it. Once this has been done, the robot is pulled out of the sewer and the UV unit is removed from the mobile robot. The same robot then repeats the journey again to check the results for leak tightness and to log the work site using GPS.

Works carried out at an adjacent site take a completely different course, however: Here, all the work has been completed as soon as UV unit has finished its curing. In this case the robot system uses two independently operated camera systems. While a camera mounted on the front of the train controls and monitors the curing process, a second camera on the rear already records the result of the work on the fly, as it were.

Underlining the suitability of the system for these kinds of tasks, the Managing Director of Hradil Spezialkabel explains: "We have developed the new drum reeling dual coaxial cable together with a manufacturer of relining robots. Practical experience has shown that the time required for sewer rehabilitation can be significantly reduced.
Robust properties for the New Generation 4.0 Coaxial Cable
From the very beginning, HRADIL's engineers have designed the "New Generation 4.0 Coaxial Cable" for exceptional robustness. No wonder - after all, UV robots have to be able to penetrate sewers to a depth of 450 meters, picking their path around corners and obstacles along the way. Upon completion of their task, the robots are pulled back out again "by their tail", i.e. their cable - another not very kind process. In addition, the cable must have drum reeling capability, exposing it to high mechanical stresses.
Hradil's 3-layer "New Generation 4.0 Coaxial Cable" features a sophisticated stress-free stranded design. Each layer is separated from the adjacent layer by means of a special film. An open aramide-braided shield has been incorporated into the sheath for strain relief. At a bending radius of 230 mm the cable resists tensile stress of up to 5,000 N. In spite of this the outer diameter is only 22 mm.
At 75 ohms, both coaxial conductors offer a much higher power reserve than conventional 50 ohm coaxial conductors.
HRADIL's "New Generation Coaxial Cable 4.0" is resistant against hydrolysis and microbes. The cable surface has low adhesion, it is oil and diesel resistant as well as resistant against cooling agents and lubricants. Furthermore, it is ozone and UV-resistant which makes it suitable for outdoor use.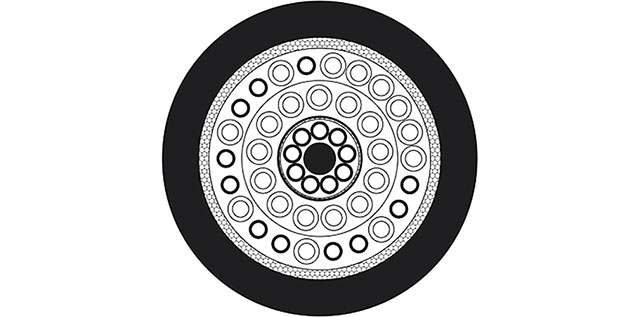 *Background: Inliner technology with UV curing and trenchless sewer rehabilitation
Cured-in-place inliner technology is a rehabilitation method for trenchless pipe renewal to repair underground water and wastewater pipes. A fiberglass liner of the required length is soaked with a curing resin and then installed in the pipe. In the case of minor defects, a short liner is used to mend the damaged area only. If the whole pipe needs to be renewed it is lined with the fiberglass lining across its entire length. A mobile robot fitted with UV lamps then travels through the pipe and cures the liner.
Downloads