Hradil high-endurance cable with a nominal voltage of up to 6/10 kV for the toughest conditions.
With its new high-endurance cable, Hradil Spezialkabel GmbH, Bietigheim (Germany), presents a drum reeling cable containing highly-flexible copper cores of 3x25 mm2 + 2x25/2 mm2 for supplying power, as well as 24 fibre optic cables for transmitting data. Alternatively, other embodiments, e.g. 3x185mm2 + 2x50mm2 + optical fiber are available.
Typical applications around the world include full gantry cranes e.g. for use in deep and open-cast mining, or mobile harbour cranes and shipboard cranes for loading containers. The key advantage of Hradil's new high-endurance cable: The service life is twice as long as that of the commonly used rubber cables. The high-endurance cable is available in lengths from 100 m and can be ready for delivery in 4-6 weeks.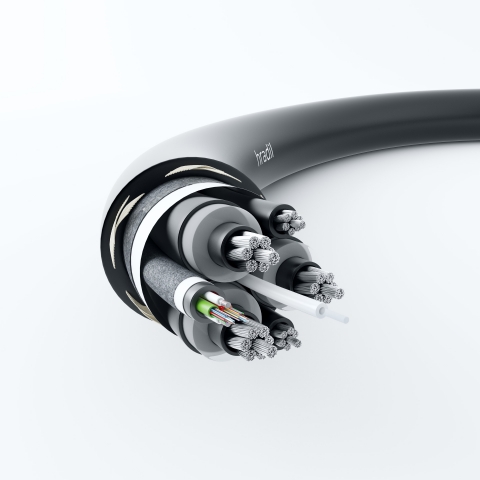 Survival of the fittest.
In outdoor applications, cables for full gantry cranes are exposed to a wide range of environmental conditions, including arctic and tropical temperatures, aggressive dust and pollutants, extreme mechanical stresses, salt water, and high levels of UV, ozone and sunlight radiation. In addition to this, the up to 150-metre-long cables are subjected to high tensile and torsional loads – through the constant rolling and unrolling on the cable drums, which can be up to four metres – a fact which should not be underestimated. The engineers at Hradil Spezialkabel have specially designed the high-endurance cable to withstand a tensile strength of up to 10,000 N.
Rubber replaced by TPU – built for hostile environments.
The high-endurance cable from Hradil has been tailor-made for hostile environments and temperatures ranging from -50°C up to +80°C, and even up to +90°C in the cable. This is why Hradil is using extremely flame-resistant TPU, instead of the standard rubber, as a jacket material. Alfred Hradil, CEO of Hradil, elaborates: "Our high-endurance cable is fitted with a black TPU double-layered jacket and an integrated textile tissue, making it considerably more resistant to abrasion, notching and cutting than the standard rubber cables. This has more than doubled the service life and the weight is reduced by up to 20%."
The TPU double-layered jacket offers a particular benefit: The cable has a diameter of just 45 mm, compared with the 50 mm diameter in rubber cables. This offers significant advantages with regard to drum reeling capacity.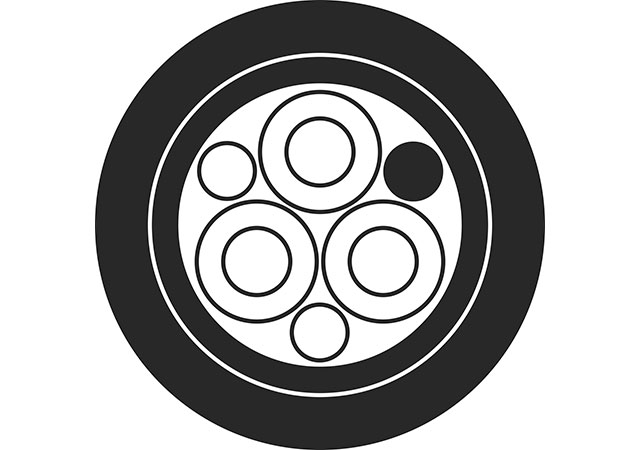 Innovative cable structure – first-class electrical parameters.
In addition to supplying power at up to 6/10 kV (AC 6.9/12 kV or DC 9/18 kV), the 24 fibre optic cables (e.g. 24G50/125) also transmit data signals for sensors and camera systems in real time. All inner cores are double coated with a special EPR mixture, and all wires are extremely finely stranded (class 6). The stranding is up to 100% stress-free, thereby limiting the potential effects of corkscrewing. In moving applications, the cable has a bending radius of 12xD or 20xD at an S-bend. The Hradil high-endurance cable is flame-resistant in accordance with IEC 60332-1-2, and oil-resistant pursuant to EN 60811-2-1 and EN 50363-10-2.

Downloads