The cable that came in from the cold.
Hradil Spezialkabel, based in Bietigheim, Germany, presents a flexible 5,000V power supply cable for offshore applications at temperatures as low as -200°C. The cable is typically used on LNG carriers. What makes this cable so special is that, instead of copper strands, it contains strands made from pure nickel. Thanks to this new low-temperature cable, disruptions to operations caused by frequent cable malfunctions are reduced to a minimum.
The cable is available in diameters from 6 mm2 to 185 mm2 and, on request, can be delivered with UL/CSA certification.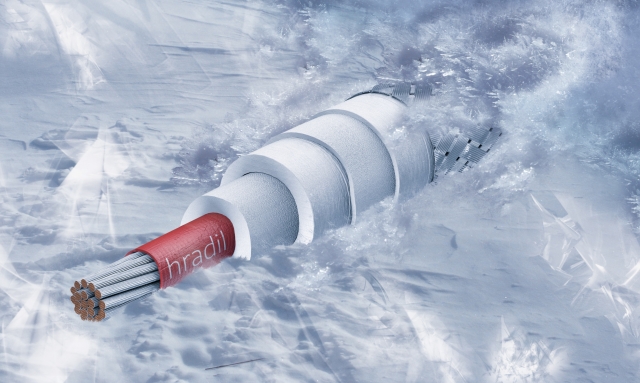 HRADIL power supply cable for maritime applications at temperatures as low as -200°C
Although demand for natural gas in Europe is growing continuously, production of the fossil fuel on the continent is in decline. As a result, natural gas requirements are largely met by exports from abroad, predominantly from Russia. In 2012, Russia supplied 39.3%, or 36 billion cubic metres, of the natural gas consumed in Germany. Natural gas is chiefly transported directly from Russia using pipelines.
Alternatives to pipelines are becoming more economically attractive.
For some time, attention has been turning to alternative, previously uneconomical, transportation options in response to the growing demand for natural gas and high gas prices. One such option is transporting liquefied natural gas by carrier. Here, natural gas is cooled down to its boiling point at -161.5°C. At this temperature – and at a normal ambient pressure – natural gas changes to its liquid state, reducing its volume by a factor of six hundred. This would allow one cubic metre of natural gas to be transported in a piece of hand luggage, e.g. in a 1.5 litre thermos bottle. Liquefied natural gas is a non-toxic, limpid and odourless fluid. After being temporarily stored in cold boxes at the port of destination, e.g. Rotterdam, it is returned to a gaseous state by increasing its temperature as and when required – allowing it to be transported by pipeline again.
Hradil develops reliable cable for icy conditions.
A pump and power supply cable must be lowered into the icy storage tanks before liquefied natural gas can be pumped in or out. The cable in particular has often been identified as a weak point in this process. Cable malfunctions have been a regular occurrence – not only because cables have to be able to withstand bitterly cold temperatures as low as -200°C, but also because mechanical loads are significant, as the cable and the pump need to be lowered more than 40 metres below the surface into gas storage tanks. The harsh environmental conditions of the open sea, with permanent UV radiation and saline humidity, place an additional burden on the cable.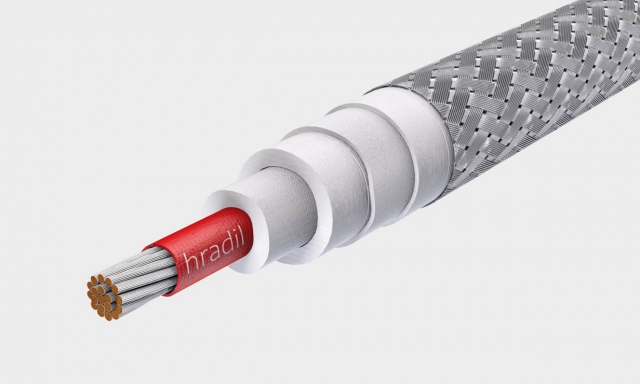 HRADIL flexible 5,000V power supply cable
To overcome these challenges, Hradil have developed a special cable with steel armouring for this type of maritime application. Hradil's low-temperature cable is available in diameters from 6 mm2 to 185 mm2. The steel armouring offers vital protection against high mechanical loads, but means that the cable can no longer be manufactured in a conventional cable extrusion process. This is why Hradil Spezialkabel has developed a special manufacturing process that creates multi-layered PTFE (polytetrafluoroethylene) film. PTFE is also known under its trade name Teflon® produced by DuPont®. The new low-temperature cable is available in different lengths depending on customer requirements, completely preassembled and is delivered with certified connectors.
Downloads