A success story written with sewer special cables.
Trade fair review, RO-KA-TECH 2013
12th International Trade Fair for Pipe and Sewage Technology
HRADIL presented the latest sewer special cable programme at the RO-KA-TECH 2013. The programme covers TV installations and renovation and pushrod systems. The central attraction for camera producers and users were special configurations, such as the world's first ever permanently break-resistant pushrod cable, which features a combination of modern fibre-optic technology and the new bfk pushrod cable.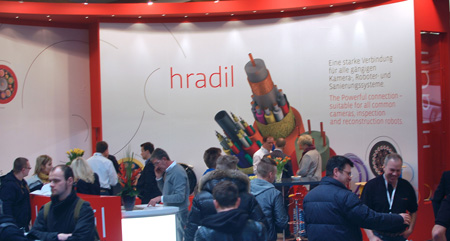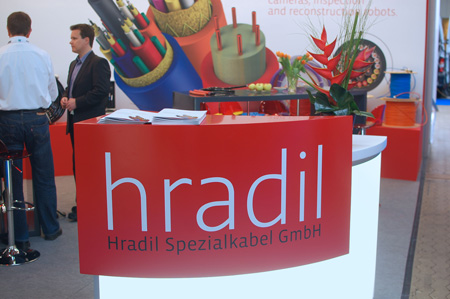 The Hradil booth at the Ro-Ka-Tech trade fair, 2013
"Is there really an unbreakable pushrod cable here?" was the question constantly asked by visitors to the HRADIL booth at the trade fair. The answer given by managing director Alfred Hradil is clear: "Stress tests carried out by Stuttgart University have verified the unbreakability of the new HRADIL bfk pushrod cable. Repairs caused by cable breakage are now a thing of the past. Cost-savings of up to 1.000 Euro a year per system are possible".
Alfred Hradil confirmed that for visitors to the booth the quality aspect, in other words, the question of product durability in daily operation, is becoming increasingly important. The reason is that when competition is stiff, downtime must be avoided as far as possible.
The range of products offered by cable developer HRADIL of Bietigheim near Stuttgart are the perfect solution for this: "We don't just make our sewer TV cables by basing them on old ones. We have in part pioneered totally innovative constructions, for example in the case of the new pushrod cable, which features materials with ceramic properties".
The HRADIL cable portfolio for sewer TV systems includes all well-known sewer TV producers, from IBAK, iPEK, ITV, JT-Elektronik, KA-TE PMO, KUMMERT, Optimess, RAUSCH, RICO, RIDGID and RiEzler through to SIKA. For special applications, e.g. optical cables, cables can be custom-designed on request.
A must for the sector.
Germany's leading environmental trade fair.
Alfred Hradil: "The RO-KA-TECH in Kassel has developed into the leading German environmental trade fair in the area of underground sewer infrastructures. This is shown not only in the rise in the number of visitors since 2011, but also in the considerable increase in exhibitors participating. We were particularly pleased about the large number of visitors and customers from abroad." Alfred Hradil makes a point of stating: "There's no doubt about it, we'll be coming to Kassel again in 2015".