With sewer camera cables on the fast lane 
Review of the IFAT Trade fair, Munich May 7th – 11th 2012. A successful trade fair for HRADIL.
IFAT, the worldwide leading trade fair for water, sewage, waste and raw materials management took place in Munich on May, 7th -11th 2012. Once more, HRADIL exhibited with an own stand. Within the last years the sewer camera cables business segment has been expanding tremendously for HRADIL. Potential buyers notably coming from the Far East, Australia and South America were particularly interested in HRADIL latest sewer camera cables developments.
.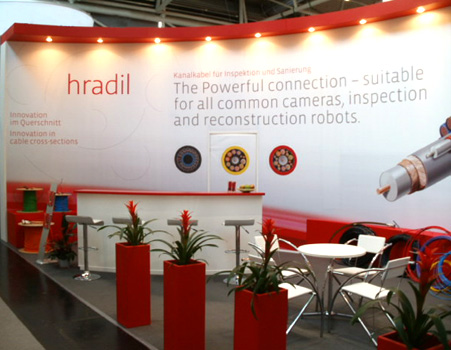 The Powerful connection
Hradil booth at IFAT 2012
Based on his range of compatible sewer camera cables, HRADIL Spezialkabel placed emphasis on quality and additional customer services at IFAT 2012. For all trade fair attendants, HRADIL focused on compatible sewer camera cables which by now are available for all common cameras, inspection and reconstruction robots. The youngest much-noticed cable novelty is a cable for IBAK-PANORAMO camera systems. Alfred Hradil points out: "We do not merely reproduce the original cable, we optimize single cable properties. In respect to material properties and friction resistance, we could even enhance the quality!" By now, the HRADIL cables and wires portfolio comprehends the "who-is who" of all renowned sewer CCTV-manufacturers: from IBAK to iPEK, ITV, JT-Elektronik, KA-TE PMO, PRO-KASRO to KUMMERT, from Optimess, RAUSCH, RICO, RIDGID, RiEzler and even to SIKA. Supplementary, cables for additional "extravagant applications" are available on demand.
There is no alternative to IFAT.
Says Alfred Hradil: "IFAT now has a steady place in our trade fair calendar. With round 125.000 visitors from 180 countries, the whole range of our international customers visited the Munich trade fair. No doubt, we will be back to IFAT 2014."