HRADIL Spezialkabel expands its product range
HRADIL Spezialkabel introduces a special cable suitable for IBAK Panoramo sewer camera systems.
The new 10 cores-sewer TV cable with central coax and a special fiber optic is specially designed for the Panoramo TV systems. In addition to its clear price advantage in comparison to the original cable, it also provides some enhancements in the field of material properties and friction resistance. The Hradil designers have sheeted an aramid yarn which not only provides the same tensile strength than the original fitted Kevlar meshwork but at the same time better resists humidity; supplementary the fiber optic has been modified with a special two-layers-coating. These properties enable an optimal absorption of lateral pressure within the cable. Hradil cable for the IBAK Panorama systems is available from stock – either in the standard lengths or alternatively at any length and by request fitted with the corresponding plug.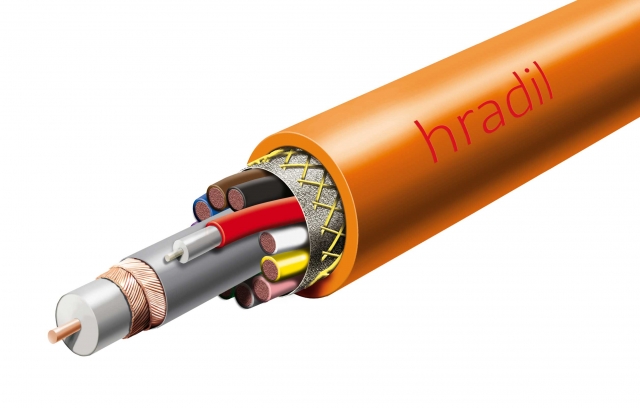 Front view of Hradil cable suitable for IBAK Panoramo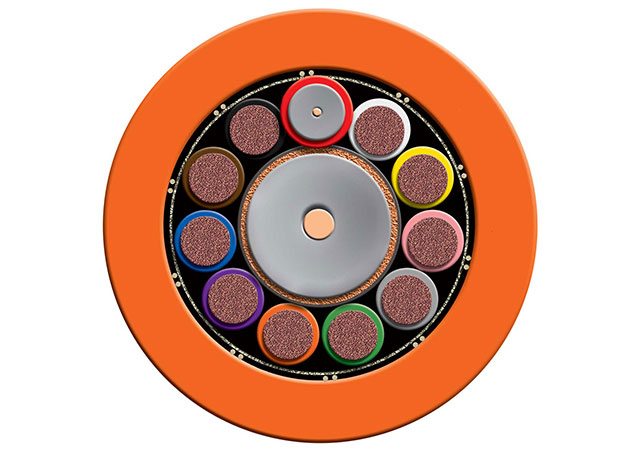 Cross-section of Hradil cable suitable for IBAK Panoramo

With regards to the quality, the characteristic of all Hradil compatible cables is without doubt the aspiration of the swabian cable designer not merely to reproduce the original cable but to optimize single cable properties. This is why the replacement IBAK Panoramo TV cable makes use of aramid instead of Kevlar for the tensile strength. Hradil CEO, Alfred Hradil, explains: "The aramid we fit has in many cases proven to be much more resistant against humidity than the usual Kevlar. Ultimately, we are able to prolong the cable operating life."

The suitable cable for the IBAK Panoramo systems is composed of a central 75 Ohm coax which is enveloped by 10 cores of 0,75 mm2 and by a special fiber optic. The outer diameter adds up to 9,5 mm. The jacket is made of robust TPE-U (11Y) with a shore-hardness (A) of 92-95. Says CEO Alfred Hradil: "By now, our Hradil quality pretension for compatible cables has won recognition at the market".
Downloads