Hradil high tech cables for sewer rehabilitation robots
Hradil Spezialkabel expands its compatible sewer CCTV cables portfolio and introduces two new hybrid lines for IBG® and SCHWALM®. According to Hradil, savings up to 40% are possible.
Additionally to 25 conductors which supply power and carry data- as well as video-signals, the new hybrid connection line for IBG® also contains an internal thermoplastical high pressure hose. Despite an outer diameter of 23 mm, the line is tremendously flexible, can be reeled and was specially conceived to resist the tough conditions underground. In order to withstand the high mechanical stress inherent to the sewer environment, the IBG® line contains an open KEVLAR meshwork for pull relief. The internal thermoplastical high pressure hose has a supplemental aramid meshwork which enables the line to resist a pressure up to 200 bar.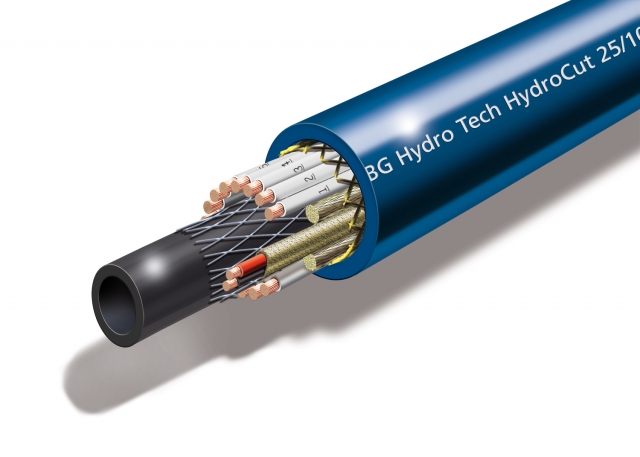 Front view of Hradil IBG® line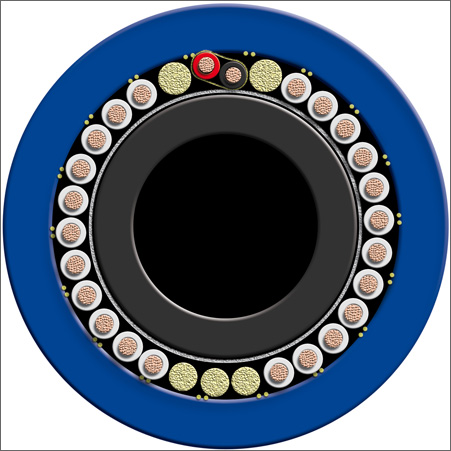 Cross-section of Hradil IBG® line
The new sewer CCTC cable for SCHWALM® has 10 conductors and a very robust PUR cable jacket which is permanently fixed to a Kevlar meshwork. This structure does not only assure a very stable cable assembly but also significantly extends the cable operating life, since the cable jacket is made of wear-resistant polyurethane PUR.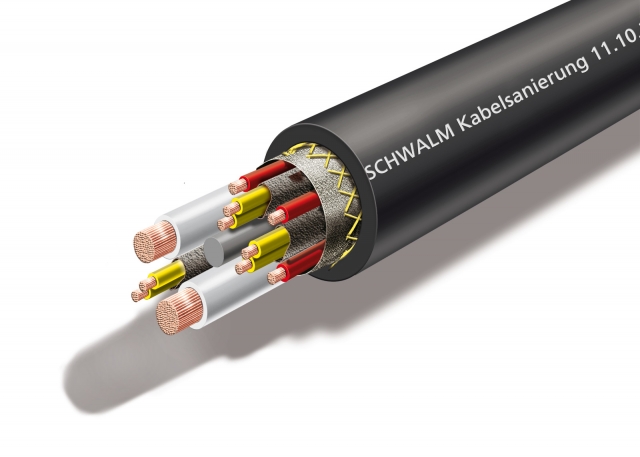 Front view of Hradil SCHWALM® line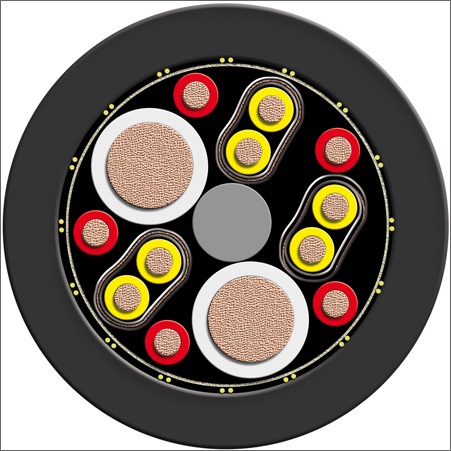 Cross-section of Hradil compatible SCHWALM® line
Hradil high tech cables for sewer rehabilitation robots
Nowadays rehabilitation robots are high tech systems which inspect and rehabilitate underground in water, sewers or even pipelines. Including a GPS-controller, they also command high-resolution cameras, laser measurement-units, high-performance motors as well as various powered sawing, milling, drilling and grinding units to either process or insert building materials. Their supply line requirements are accordingly very complex.

For those very demanding applications, Hradil has developed particular structural techniques and focused on specifical material compound.
About HRADIL Spezialkabel
For more than 30 years now, Hradil has developed specially engineered cables to meet specific customer requirements. This has resulted in over 2,000 designs. We can turn your ideas into reality, no matter whether you need cables with diameters from 0.4 to 100 millimeters, single to 470 conductors, and conductor cross-sections from 0.08 to 64 square millimeters. We start off with an in-depth exchange of ideas with our customers and then work together to define the job specifications.
The worldwide application areas of the Hradil cables are the automation, the transmission, the measurement and the medical technologies as well as the deep-sea and rehabilitation robots.
Downloads