On the fast lane with CCTV cables
During the Ro-Ka-Tech fair 2011, Hradil Spezialkabel displayed its range of compatible sewer CCTV cables and focused on quality and additional service offers. New to its portfolio are two hybrid lines with integrated PUR hoses for the PMO® and KA-TE® rehabilitation robots.
"We haven't merely carried over the original cable design for our new sewer CCTV cables. Partly, we have broken new design ground in the fields of material property and friction resistance. All the same, the compatible cables functionality matches exactly the originals", emphasizes Alfred Hradil. On the one hand, the swabian cable designer focuses on cable outer jackets made of wear-resistant polyurethane (PUR), and on the other hand made of a doubled-polyamide-jacket ("onion skin concept") which enables camera robots to achieve a considerable longer range. In addition, the operating life of the connecting cable increases as these sewer CCTV-cables are doubly secured against a premature cable death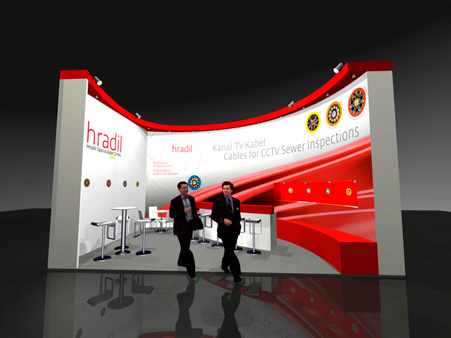 Hradil booth at the Ro-Ka-Tech 2011.
By now, the Hradil cables and wires portfolio comprehends the "who-is who" of all renowned sewer CCTV-manufacturers. From IBAK to iPEK, ITV, JT-Elektronik, KA-TE PMO to KUMMERT, from Optimess, RAUSCH, RICO, RIDGID, RiEzler and even to SIKA. Cables for additional "extravagant applications" are available on demand.
There is no alternative to the Ro-Ka-Tech.
Alfred Hradil says: "It was clear from the beginning that the Ro-Ka-Tech would take root as a German trade fair. This year however, the high foreign public interest has showed us that the Ro-Ka-Tech also strongly attracts customers from abroad. We feel very happy about it. No doubt, we will be back in Kassel in 2013!"
Hradil Ro-Ka-Tech 2011 fair invitation