Hradil Spezialkabel expands its cable portfolio
Hradil-Spezialkabel expands its portfolio for sewer rehabilitation robots cables and introduces two new Special-hybrid lines with integrated PUR hoses for PMO® und KA-TE® rehabilitation robots.
Cables for sewer rehabilitation robots have an averaged short operation time of 1,5 to 2 years. Of course the lifetime may increase depending on the type of operation and by carefully handling the cable but nevertherless, wires breaks within the cable are unavoidable. And so, eventually, each cable runs down. Taking into account that one sewer rehabilitation unit comprehends up to 100 meters cable, the costs easily totalize several thousand euro! This is why for many years Hradil has been delivering a comprehensive range of cables compatible for both sewer and CCTV robots systems.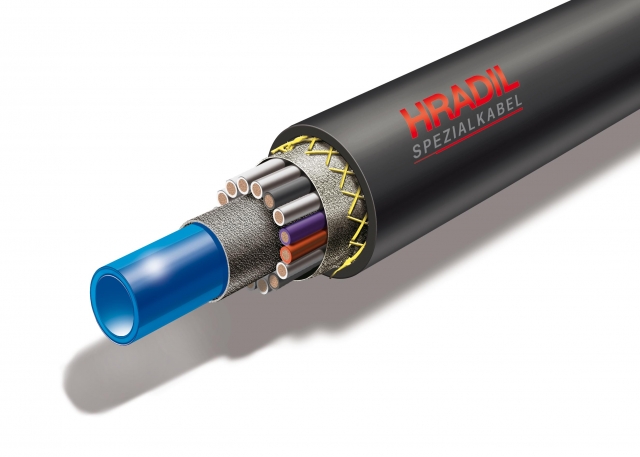 Front view of Hradil Special-hybrid line for KA-TE®
Cross-section of Hradil Special hybrid line for KA-TE®
The distinctive design elements of the new Hradil Special hybrid lines for the PMO® und KA-TE® rehabilitation robots are each one PUR hose of respectively 5,7 x 8 mm and 6 x 8 mm. Those hoses supply the rehabilitation robots with compressed air. The PMO®line contains a total of 19 conductors to supply power and carry energy and signals to and from LEDs and sensors: two twisted pairs of conductors of each 0.5 mm² and seventeen conductors of each 0.75 mm². The new KA-TE® line contains a total of 12 conductors: two twisted pairs of conductors of each 0,6 mm² and ten conductors of each 1,0 mm².
Modern stranding technologies, an open KEVLAR meshwork for pull relief and a rugged cable jacket make this new line a survival artist undergrounds. The outer jacket is made of a wear-resistant TPE-U (11Y) compound, which is permanently molded into the mesh. Despite an outer diameter of 17,3 mm for the PMO line and 16,2 mm for the KA-TE® line are both cables tremendously flexible and can be reeled. Both lines are resistant against oils and fuels as well as against coolants and lubricants. They are suitable for an application outdoor and were conceived to resist ozone and UV-radiation.
Front view of Hradil Special-hybrid line for KA-TE®
Cross-section of Hradil Special hybrid line for KA-TE ®
Downloads