This cable will never run out of steam!
The Hradil Spezialkabel company developed the Special hybrid supply line incorporating five PUR hoses to deliver compressed air and coolant to construction machinery.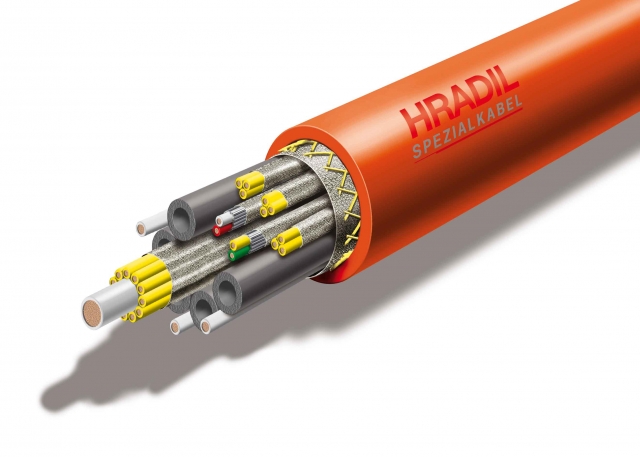 Cutaway view of the new Hradil Special hybrid supply line with its five integrated PUR hoses.
(August 11, 2010) The distinctive design elements in the new HRADIL Special hybrid lines are five PUR hoses, each with an inside diameter of 3 millimeters. Those hoses are engineered to handle operating pressures of up to 12 bar as they supply construction machinery with both compressed air and the water needed to cool the engine. Typical applications for the Special hybrid line will be found in underground mining, for rock drills using high-speed motors. The advantages of this new hybrid hose are readily apparent. In the past multiple hoses were used to deliver high-pressure air and coolant – along with an additional and separate power supply cable. Now only a single Special hybrid line is required.
Hradil Spezialkabel developed the Special hybrid line incorporating five PUR hoses, shown in cross section.
The HRADIL Special hybrid line contains a total of 23 conductors used for power supply and to carry energy and signals to and from LEDs and sensors: one twisted pair with 0.38 mm² conductors, one 4.0 mm² conductor and twenty conductors with 0.38 mm² cross section in a variety of groupings.
Extremely rugged.
Suitable for reeling. Superb for hard underground use.
Dust, dirt, moisture and severe mechanical loading are typical of everyday work in all kinds of underground operations. And if a construction vehicle drives over the supply line, then every standard design would certainly fail. That is why the engineers at HRADIL dipped deep into their bag of engineering and materials tricks. Modern stranding technologies, an open KEVLAR weave for tension relief and a rugged outer jacket make this new line a survival artist in harsh environments. The outer jacket is made of a wear-resistant TPE-U (11Y) compound. It is permanently molded into the mesh. Despite the overall diameter of 22 millimeters, this high-pressure line is tremendously flexible and is capable of winding up on reels.
Downloads