One cable. Eight coaxials.
Hradil Spezialkabel GmbH presents its new Special cable with eight integrated coaxials and 21 control conductors.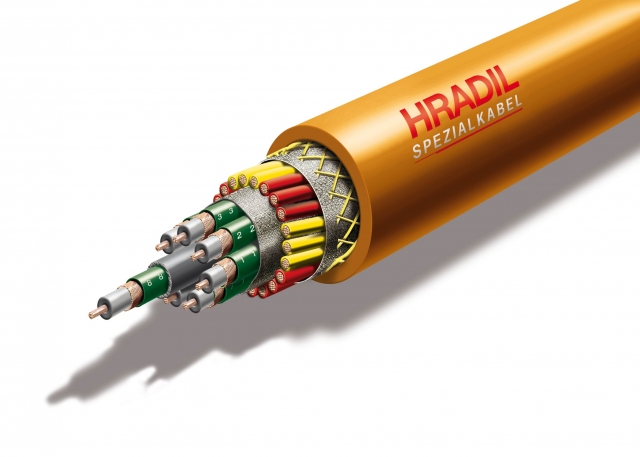 The Special octuple coaxial cable
Out-of-the ordinary cable solutions are one thing; high performance and suitability for everyday use something quite different. With its new Special series multi-coaxial product cable specialists Hradil have proved that you can indeed combine these characteristics. What's so special? Its latest cable with its octuple coax and 21 control conductors provides both physical ruggedness and an exceptionally slim-line design. According to Hradil its diameter of a mere 15 mm makes it the most compact multi-coaxial cable of this type ever marketed. Thanks to the application of the latest in material technology this new cable is nevertheless capable of withstanding tensile loads of up to 5,000 N. The octuple coax cable was developed specifically for an ultrasonic pipe-inspection robot. This ultrasonic robot is capable of determining pipe wall thicknesses and simultaneously detecting outer and inner pipe damage. Hradil's Special cable transmits data from eight ultrasonic sensors as well as power and control signals to drive the robot itself.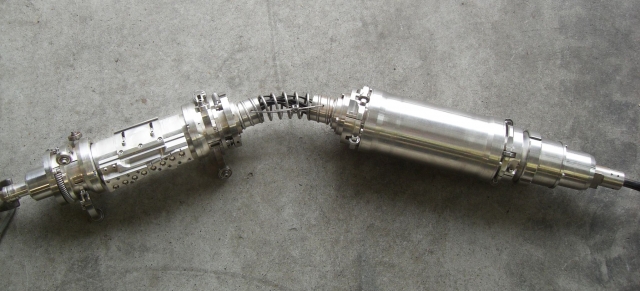 Safety takes absolute priority.
An inspection robot with eight ultrasonic eyes sees more.
All-round inspection of safety-critical areas is enormously costly. With the ultrasonic robot made by INSPECTOR SYSTEMS you can significantly reduce the amount of inspection and preparatory work. Instead of laborious checks from the outside the robot can inspect pipes from the inside, too. The ultrasonic inspection device is attached to the pipe robot as a separate module and consists of a rotating unit with a total of eight ultrasonic sensors. A drive unit moves through the pipes. Inspector Systems' ultrasonic robot is capable of traveling up to 250 meters inside pipes measuring 130 mm to 200 mm in diameter. It can be inserted into pipes under the most cramped conditions and can even overcome swan-neck bends. This ultrasonic inspection robot is watertight at pressures of up to 10 bar.
Close-up: The inspection robot's "eight ultrasonic eyes".
A cable with 29 "electrical functions".
The high-tech umbilical cord for contact with the outside world.
A special Special cable with octuple coax leads and 21 control conductors connects the inspection robot with its control unit and with the evaluation unit. All the ultrasonic data collected by the inspection robot is transmitted through the octuple coax cable and is available in real time. Initial evaluations are thus possible while the inspection work is still being carried out. The company's president, Alfred Hradil, explains the challenging requirements profile for this particular cable: "On the one hand it must be capable of transmitting a huge amount of data and on the other hand the coaxial cable is subjected to extreme mechanical stress." Such mechanical loading is always to be expected when you consider that this hybrid cable – that can be anything up to 250 meters in length – has to wind its way around tight bends and corners, be rolled on to drums, or even used to pull the robot back through the pipe. To counteract the tensile loads a highly resilient KEVLAR braid is permanently welded to the outer PUR jacket. This makes the octuple coaxial cable capable of withstanding tensile loads of up to 5,000 N. To guarantee high transmission performance – even over longer distances – special 50 Ω coaxials with lower conductor resistance are used. These also have a more stable lead core than standard coaxial cables. Its 1.5 mm thick jacket made of TPE-U (11y) protects the cable against abrasion inside the pipe and also withstands the effects of aggressive substances likely to be used in the chemical industry.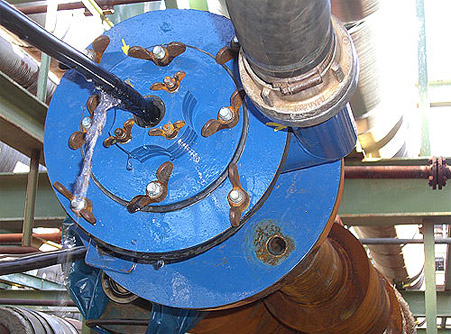 The inspection robot at work inside a pipe.
Hradil's octuple coaxial cable is the connection with the outside world.
Background information on coaxial cables.
Coaxial cables consist of an insulated inner lead (also referred to as a cable core) which is surrounded by an outer lead at a uniform distance from the inner core. Usually this outer layer is also insulated from the outside by a jacket. The electrical field generated when voltage is applied only occurs between the outer and the inner lead; no magnetic fields are generated outside the cable. To achieve effective distribution of the electrical field the outer lead (shielding) must be grounded. This results in the two leads having unequal voltages against ground. That is why coaxial cables are asymmetrical (twin leads are balanced to ground). Short cables are usually used for television and video equipment while longer cables are used to connect radio/television and computer networks. In radio frequency technology antennas, transmitters and receivers are often connected by means of coaxial cables.
About INSPECTOR SYSTEMS
These mechanical engineering specialists based in Rödermark have been developing and manufacturing robots for inspecting and checking pipe systems for 25 years now. The company's history began on November 1, 1983 with a firm then called Rainer Hitzel GmbH.
The founder, Rainer Hitzel, was driven by a vision to develop a self-propelled inspection system that could move inside pipes with their swan necks and vertical sections. This was first achieved a short while afterwards and since then the company has been manufacturing pipe robots of various shapes and sizes to meet specific customer requirements – robots now in use all over the world. Success has proved them right and its customer base continues to grow. By expanding its business activities and continuously developing and improving its pipe inspection robots, the company located in Rödermark south of Frankfurt since 1991, continues to flourish. Today an expert team of engineers, technicians and skilled workers develops and produces customized pipe inspection robots and ensures they perform trouble-free on the most varied of projects around the world.
Contact
INSPECTOR SYSTEMS GmbH
Dipl. Ing. Marcus Hitzel / Managing Director
Joh. Friedr. Böttgerstr. 19
63322 Rödermark
Tel: +49 (0) 6074 / 917 123-4
E-mail: m.hitzel@inspectorsystems.de
Internet:
www.inspectorsystems.de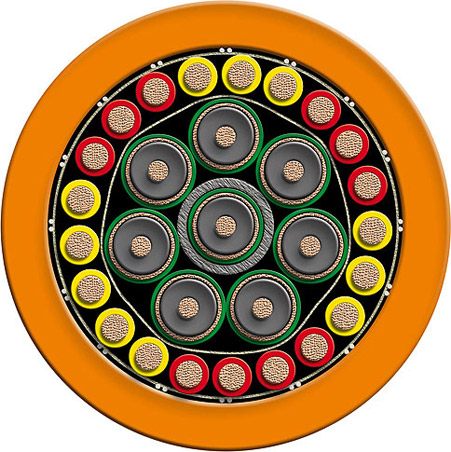 The Special octuple coaxial cable
Downloads