Under Pressure.
A cable that can withstand (almost) any pressure. Hradil's new high-pressure flushing cable combines what used to be two separate components: a sewer inspection CCTV cable and a flushing hose. It has been designed to operate at pressures of up to 2,500 bar.
With this hybrid cable assembly Hradil Spezialkabel of Stuttgart has introduced a high-pressure flushing cable that has been developed specifically for rehabilitation robots such as the robot with a cleaning unit, supplied by Pro-Kasro of Karlsruhe. These robots are also suitable for cleaning badly fouled sewer pipes.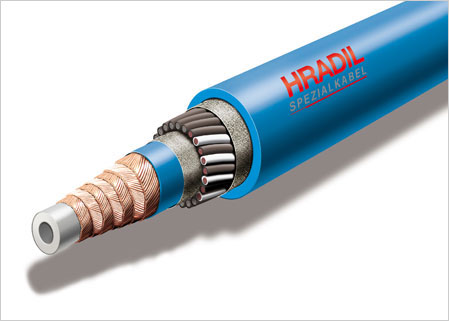 The most significant design feature is the tube located in the cable's core. It is wrapped in six layers of steel wire armor to handle pressures of up to 2,500 bar. Hradil's flushing cable also provides signal and data transmission leads, each having a cross-section of 1.0 mm². These are used to transmit video and data signals and to control the sewer robot's motors.
Instead of using two hoses and two cable drums as in the past you now need only one high-pressure cable and one cable drum. The benefits are obvious in daily work: Formerly separate sewer rehabilitation operations can now be combined. Previously you had to guide a CCTV robot down the sewer first in order to assess damage. Only then was it possible to send down the rehabilitation robot to carry out the necessary repair work. Finally, the CCTV robot had to check the results. All this is a thing of the past.
Rugged and ready for drum reeling. Perfectly armed for tough underground assignments.
In spite of its total diameter of 23 mm this high-pressure flushing cable is flexible and can be reeled on a drum. To achieve this, extremely low-friction FEB material was chosen to insulate the conductors. This material has excellent dielectric properties and is extremely rugged. An abrasion-resistant TPE-PUR blend is used for the jacket as it guarantees a high level of flexibility even at low temperatures. The cable can be used in the -40° to +150°C range.
Downloads