Hradil Spezialkabel is extremely gratified by the interest shown at the 2008 IFAT industry fair in Munich.
Hradil Spezialkabel of Stuttgart is extremely gratified by the interest shown in compatible CCTV robot cables by visitors to their exhibition booth at the 2008 IFAT industry fair in Munich.
Hradil Spezialkabel of Stuttgart is thoroughly satisfied with the course of events at the 2008 IFAT trade fair. Hradil reports that numerous visitors to the exhibition have inquired about prices, complete cable assemblies including plugs, and naturally the question of quality in comparison with OE cables. In the meantime Hradil is able to supply compatible cables for all popular sewer inspection CCTV cameras.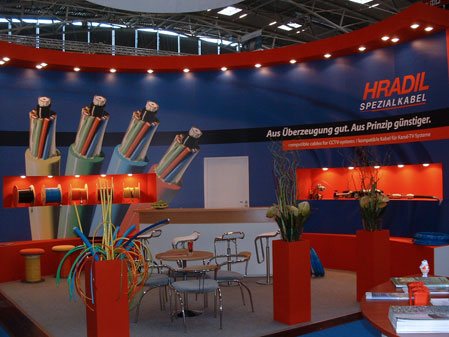 President Alfred Hradil: "For several years now we have demonstrated that the quality of our compatible cables is entirely equal to that of the original equipment. The functions of our CCTV cables for sewer robots are identical to those of the original equipment. Many of our customers have taken the leap and ultimately are highly satisfied." Alfred Hradil adds: "Our development work does not simply entail copying the original item. In many cases we have followed new engineering paths by incorporating improved material solutions – but without losing sight of the 100% compatibility our product must have with the original cable."
Service campaign well received by Hradil customers: gratis cable loans and on-site plug repairs
For quite some time now the service staff at Hradil has concentrated on providing emergency assistance and this has gone down really well with their customers: If a Hradil cable is damaged the manufacturer will lend you a replacement, free of charge, once you ring the telephone hotline – even on Saturdays and Sundays. They will also carry out on-site plug repair work for their customers. This reduces sewer CCTV robot downtimes to a minimum.

All of Hradil's sewer inspection CCTV cables are available from off the shelf – either in standard or customized lengths.
Downloads