Hradil at IFAT 2008. Compatible cables for sewer inspection CCTV.
Hradil Spezialkabel of Stuttgart can offer cost savings of up to 40% for compatible sewer inspection CCTV cables compared with original equipment prices! See for yourself at our Booth 109 in Hall B6 at the IFAT in Munich.
It is a well-known fact that cables are the weak link in sewer inspection CCTV systems. On average they have to be replaced every 1½ to 2 years. Although a cable's active service life can be much longer – if the ambient conditions are right and if the operator treats the equipment gently – there is no way of avoiding conductor breaks inside the cable, simply because these assemblies are exposed to rough handling. And then the inevitable happens. At some time or other every cable is going to "give up the ghost". Expect a bill for several thousand euros if you have to replace a 500 meter length of cable for a sewer inspection robot!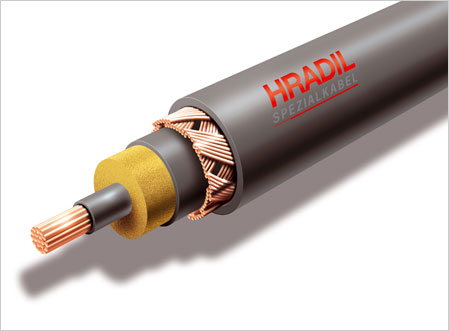 So it's a really good thing that Hradil Spezialkabel of Stuttgart supplies compatible cables for sewer inspection CCTV systems. According to Hradil their products will cost 40% less than original equipment. Hradil stocks compatible cables for every popular sewer inspection CCTV brand, such as IBAK*, JT*, optimess*, iPEK*, Rausch*, Rico*, SIKA*, ITV*, Nicom* etc.

But can compatible cables compare with original equipment when it comes to quality? President Alfred Hradil emphasizes: "We don't just copy OE items when developing our cables for sewer inspection CCTV systems. In many cases we have broken completely new ground with respect to material characteristics and wear and tear resistance."

Alfred Hradil

adds: "User feedback confirms that our cables are more durable than the original units. The coaxial running though the core is especially delicate in TV cables. Naturally this is where we make the best possible use of our 30 years of experience in developing special cables."

Every Hradil cable can be supplied complete with plugs. Compatible cables may also be used in EEx areas.

Alfred Hradil

: "Our cables can also be operated in explosionendangered and explosion-protected environments – at landfills, for example. We have all the necessary certificates for the relevant cable types."

Each Hradil sewer inspection CCTV cable is immediately available from stock – either in standard or customized lengths.

You will find us at Booth 109/1 in Hall B6 at the IFAT 2008 in Munich



IBAK*, JT*, optimess*, iPEK*, Rausch*, Rico*, SIKA*, ITV*, Nicom* are all registered company or brand names