Some like it hotter…
Hradil Spezialkabel of Stuttgart has developed an extremely thin, flameresistant high-performance cable called CERAMOFLEX® as a connector that can be reeled on drums.
The engineering secret behind Hradil's new CERAMOFLEX cable is its conductor insulation, made of special ceramicized silicon. In spite of its high level of flame retardance (FE rating of 180 at 750°C) CERAMOFLEX cables are extremely flexible and, with a diameter of only 11.4 mm, extremely thin, as well. This not only makes CERAMOFLEX cables significantly lighter than comparable models but it can also be wound up on a reel. A typical application for CERAMOFLEX cable would be as a signal and power cable with four 1.5 mm conductors, suitable for cranes on offshore oil rigs.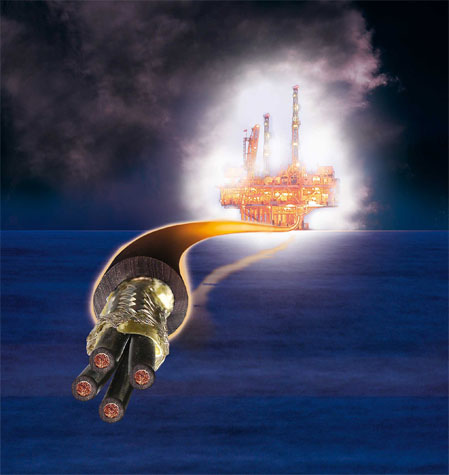 Flame-retardant cables are a growing market
Global demand for flame-retardant cables is tremendous. In many safety-conscious sectors – including tunnel construction, general industry, building technology or automobile manufacturing – cables like these are laid permanently. The most important quality expectation for flame-retardant cables is that they remain operational during a blaze. This means that – even when subjected to fire – the cable must continue to transmit energy and signals. The need is easily explained.
Wherever large numbers of people congregate it is absolutely essential that, should a fire break out, vital evacuation and fire control functions such as smoke extraction, emergency lighting and radio communication have to remain functional for a certain period of time.
From a vision to a flame-retardant and flexible cable assembly
In recent years many cable makers have developed new designs that offer a high degree of flame resistance. One thing all these have in common, however, is that they incorporate several layers of flame-retardant material, making them quite massive, thick and heavy. This type of cable is usually laid permanently, in a cable tray, for instance. In situations where flexibility is essential or when it is even necessary to reel cable onto motorized drums, for instance, cables like these are entirely unsuitable. Just a few movements would suffice to destroy the cable's inner structure.
Hradil has now developed a cable that is perfectly suited to situations demanding flexibility. The design of CERAMOFLEX cables is highly sophisticated and the appropriate patents applications have been filed. Hradil's engineers have intentionally avoided using mica tape, a flame-retardant material frequently chosen for insulation purposes, preferring their own technical solutions. Hradil's CEO, Alfred Hradil, says: "Constructing a cable with mica tape is very complex and thus expensive. What's more, this type of cable can be difficult to handle, especially when being stripped."
Hradil's solution for the CERAMOFLEX cable assembly is as follows: The cable core contains the actual electrical conductors, e.g. four 1.5 mm² conductors for signals and power, wrapped in a 0.7 mm layer of insulation made of a special type of silicon.
These are surrounded by three further layers: Two bandings of fire-retardant nonwoven material and in between them a layer of copper braid shielding. The cable's jacket is made of fire-resistant PUR (Estane X1261) which permits bending radii of 110 mm in permanent operation. On top of this, CERAMOFLEX cables weighing only 255 kg per km are in the welterweight division. Comparable flame-resistant cables using mica tape are much heavier, weighing in at well over 400 kg per km.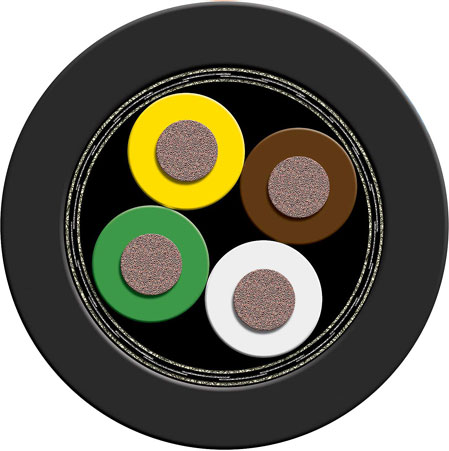 If a fire breaks out and high temperatures of several hundred degrees ensue, then the silicon ceramic insulation jacket surrounding the conductors is baked into rigid and brittle silicium oxide but the shape of the conductor insulation remains unchanged.
Alfred Hradil: "CERAMOFLEX cables do indeed lose their flexibility bit by bit the longer a fire rages but the electric wires continue to be reliably separated from one another, which prevents short circuiting." This means that the cable stays operational for quite a while. To be precise, a fire test carried out by the MPA in Dresden (in compliance with IEC 60331-11 and IEC 60311-21) confirmed that the cable was still operational after being exposed to flames for 180 minutes.
Background:
Requirements for cables in a fire

Among the major factors required for a cable to maintain its properties in a fire and for fire prevention is flame resistance (also known as the fire retardant effect) along with self-extinguishing capability. This means that the cable must restrict and reduce the propagation of flames to a defined degree. A single cable may, therefore, burn to a certain limited extent when set aflame by an ignition source but it must be selfextinguishing within a short time after that heat source has been removed. A cable may bear the FRH classification if it fulfils the above mentioned requirements and successfully completes additional, more stringent testing. Bundles of cables and insulated conductors in particular, especially those installed vertically in a vertical utilities shaft may under no circumstances allow fire to spread to the floor above or to other parts of the building.

Abbreviations frequently used in the cable industry to classify fire resistance properties:

(H) Halogen-free
(FR) Flame-retardant
(FRH) Enhanced flame retardance
(FE…) Retention of insulating properties in a fire, expressed in minutes (FE180)
(E…) Retention of operational capability in a fire, expressed in minutes (E 30, E 60, E 90)
(NC) Low smoke level (non-corrosive)
Downloads